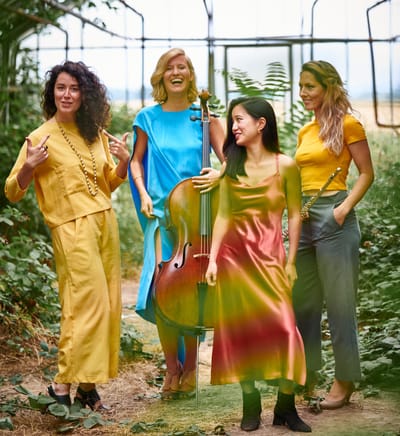 Die Musikerinnen Sally Beck (Flöte), Ella Rohwer (Cello), Claudia Chan (Klavier) und Marie Heeschen (Sopran) haben sich an der Hochschule für Musik und Tanz Köln kennengelernt. Alle vier haben sich bereits vor der Gründung des Ensembles 2013 intensiv mit Neuer Musik auseinandergesetzt und führen dieses Interesse in der gemeinsamen Arbeit fort.
Ihr Arbeitsschwerpunkt ist die Interpretation zeitgenössischer Werke des 20. und 21. Jahrhunderts. Dabei haben sie bereits mit Komponist*innen wie u.A. Helmut Lachenmann, Gordon Kampe und Johannes Schöllhorn zusammengearbeitet. Außerdem entwickeln sie seit Ihrer Gründung neue Kompositionen, Musiktheaterproduktionen und Konzertkonzepte in enger Zusammenarbeit mit jungen Komponist*innen.
Seit 2014 wird das Ensemble BRuCH gefördert durch ein Stipendium der Werner Richard-Dr. Carl Dörken Stiftung. Im selben Jahr haben die Musikerinnen den 2. Preis des Karlsruher Wettbewerb für die Interpretation zeitgenössischer Musik gewonnen. 2015 gastierten sie erstmals bei dem Acht Brücken Festival Köln wie auch dem Zeitgenuss Festival Karlsruhe. Seit 2016 werden sie gefördert durch ein Stipendium des Deutschen Musikwettbewerb wie auch ein Stipendium der Marie-Luise Imbusch-Stiftung Lübeck. Außerdem wurden sie für die Bundesauswahl Konzerte Junger Künstler ausgewählt.
Das Ensemble BRuCH hat bereits bundesweit Konzerte gespielt und beteiligt sich an der Nachwuchsförderung junger Komponisten. So haben die Musikerinnen 2017 mehrfach als Dozenten mit Preisträgern in der Kategorie "Komposition" des Wettbewerbs Jugend Musiziert gearbeitet.
Das Ensemble hat u.a. mit David Smeyers, Robert Winn, Christoph Prégardien und Barbara Maurer gearbeitet und ist 2018 zum "Ensemble in Residence" der Folkwang UdK Essen ernannt worden. Neben ihrer Konzerttätigkeit schlossen die Musikerinnen 2019 das Studium im Exzellenz-Studiengang Konzertexamen Kammermusik mit Auszeichnung ab.
2020 erhält das Ensemble BRuCH das "Reload. Stipendium für freie Gruppen" der Kulturstiftung des Bundes. Sie haben bereits mehrfach Rundfunkaufnahmen für den WDR und den Deutschlandfunk eingespielt. Diese wurden u.a. in Porträts des Ensembles gesendet.
-----------
The four members of BRuCH, Sally Beck (Flute), Ella Rohwer (Cello), Claudia Chan (Piano) and Marie Heeschen (Voice) met whilst studying at the Hochschule für Musik und Tanz Köln. Previous to founding the ensemble in 2013, all four musicians had worked separately within the field of contemporary music. They now work together to continue taking this interest forward. As an ensemble BRuCH are dedicated to the interpretation of contemporary works from the 20th and 21st centuries and work regularly with young composers, including Julien Jamet, Ricardo Eizirik, Gordon Kampe, Simon Steen-Andersen, Huihui Cheng, Feliz Macahis and Matthias Krüger. Their concert programmes are crafted from music of the 20th and 21st Centuries, delivered through the unusual instrumentation of the ensemble (piano, flute, cello and voice). Since 2014 BRuCH has been supported by a scholarship from the Werner Richard - Dr. Carl Dörken Stiftung. In the same year BRuCH won 2nd prize at the Karlruher Competition for Contemporary Music. They have appeared at Acht Brücken Festival Cologne, the Zeitgenuss Festival Karlsruher, the Euregio Musikfestival, TripClubbing concert series for the Philharmonie Köln and in the Gewandhaus Leipzig. Since 2016 they have been supported by a scholarship from the German Music Competition (Deutscher Musik Wettbewerb) and also won the Marie-Luise Imbusch Stiftung. BRuCH has worked with David Smeyers, Robert Winn, Christoph Pregardien and also with Helmut Lachenmann on his work temA, which they were later invited to record for West German Radio (WDR). BRuCH have also made recordings for Southwest Radio (SWR), North German Radio (NDR) and German Radio (Deutschlandfunk). In 2018 they were named Ensemble in Residence at the Folkwang University of the Arts in Essen where they studied on the Konzert Exam Excellence programme in the class of Prof Barbara Maurer. In 2020 BRuCH received a "Reload. Stipendium für freie Gruppen" (Scholarship for freelance ensembles) from the German cultural foundation. In 2021 they launched their own concert series in Cologne, BRuCH +XX, focusing on female composers and musicians in contemporary music. They continue to regularly comission and perform new works with upcoming projects including a Musiktheatre piece by Tatiana Gerasimenok to be premiered in Cologne in autumn 2022.