The first event of BRuCH +XX went ahead on 28.2.21 via zoom. We were happy that so many people could join us from around the world for this preview to our concert series, which places its focus on providing a platform for female composers and musicians.
In case you missed it here are some pictures from the event along with the videos we shared!
Firstly from technical desk (+ technician Ella Rohwer) at die wohngemeinschaft in Köln, who so kindly provided their space and high speed internet to host our event.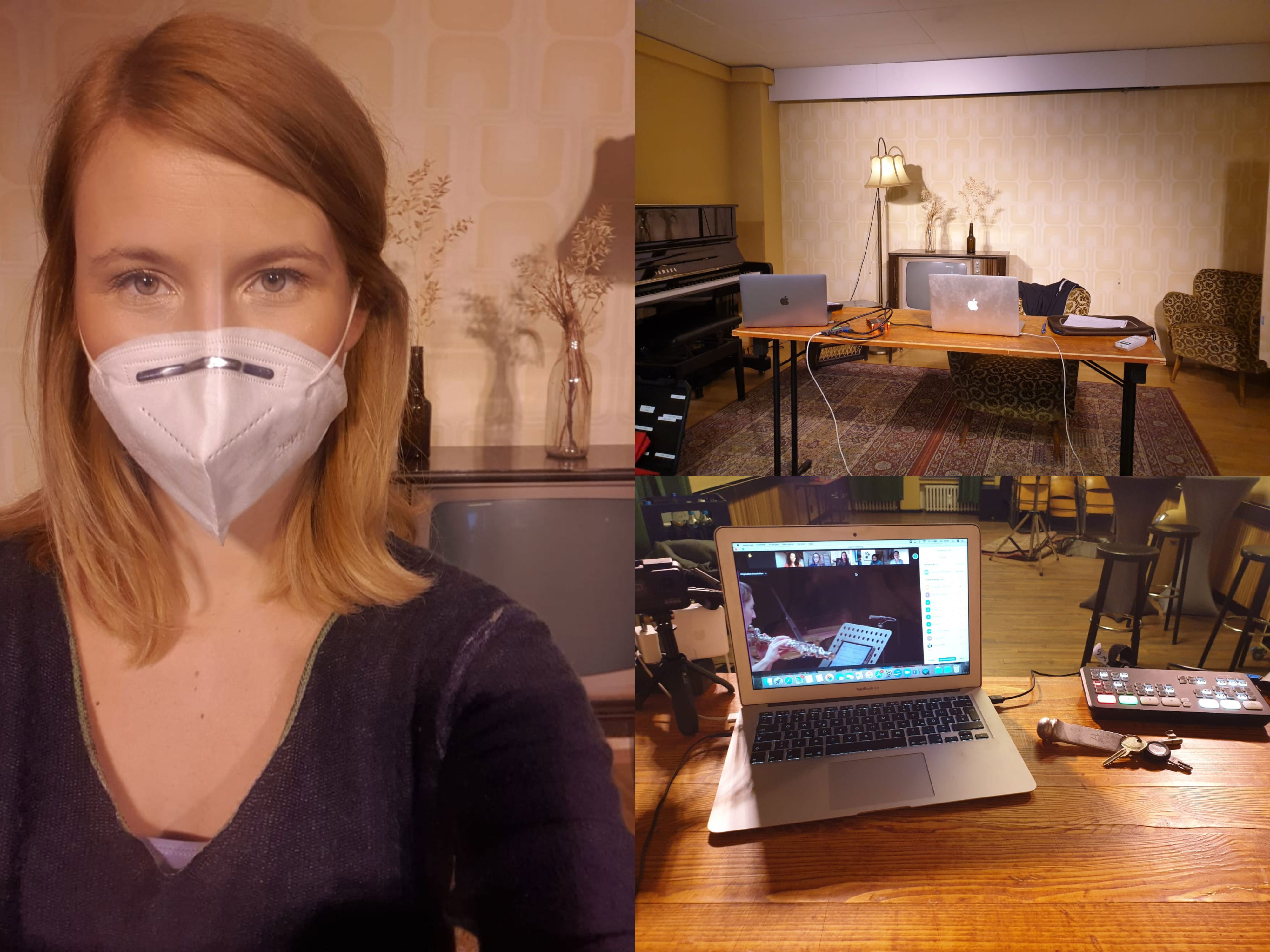 To kick off we presented a work by Berlin based composer Rebecca Saunders. "Oh Yes & I" for soprano and bass flute, written in 2017, is a setting of text from James Joyce's Ulysses. Saunders takes text from the final episode of the work, in which the thoughts of Molly Bloom, the only female protagonist in Ulysses, are presented.
Next we were lucky enough to have composer Feliz Anne Reyes Macahis with us online for a live interview, where we discussed her work "nag lalang man ta salunay", written for BRuCH in 2020. She told us how the text in this piece is taken from a Philippine epic, telling the story of the hero and his search for his next wife (among other things). The composer chose the rare moments in the four-hour long epic which were told from the female perspective, and colours the text with the various instruments and our voices, building up to a middle section where the text is laid bare, and recited in unison, only to dissolve into ephemeral, dissociative textures towards the end.
After a question and answer session with members of our zoom audience we presented our final recording, "Die Aussicht" by Kaija Saariaho, written in 1998. Taking a poem by Friedrich Hölderin, "Die Aussicht" simply conveys the composers impressions of Hölderin's beautiful text.
And finally a look to future concerts in the series:
May 27th 2021 in Kunst-Station Sankt Peter, Köln, with a premiere by Dariya Maminova and guest percussionist Salome Amend.
October 29th in Kunst-Station Sankt Peter, Köln with premieres by Huihui Cheng and Thea Soti.
We look forward to seeing you there!